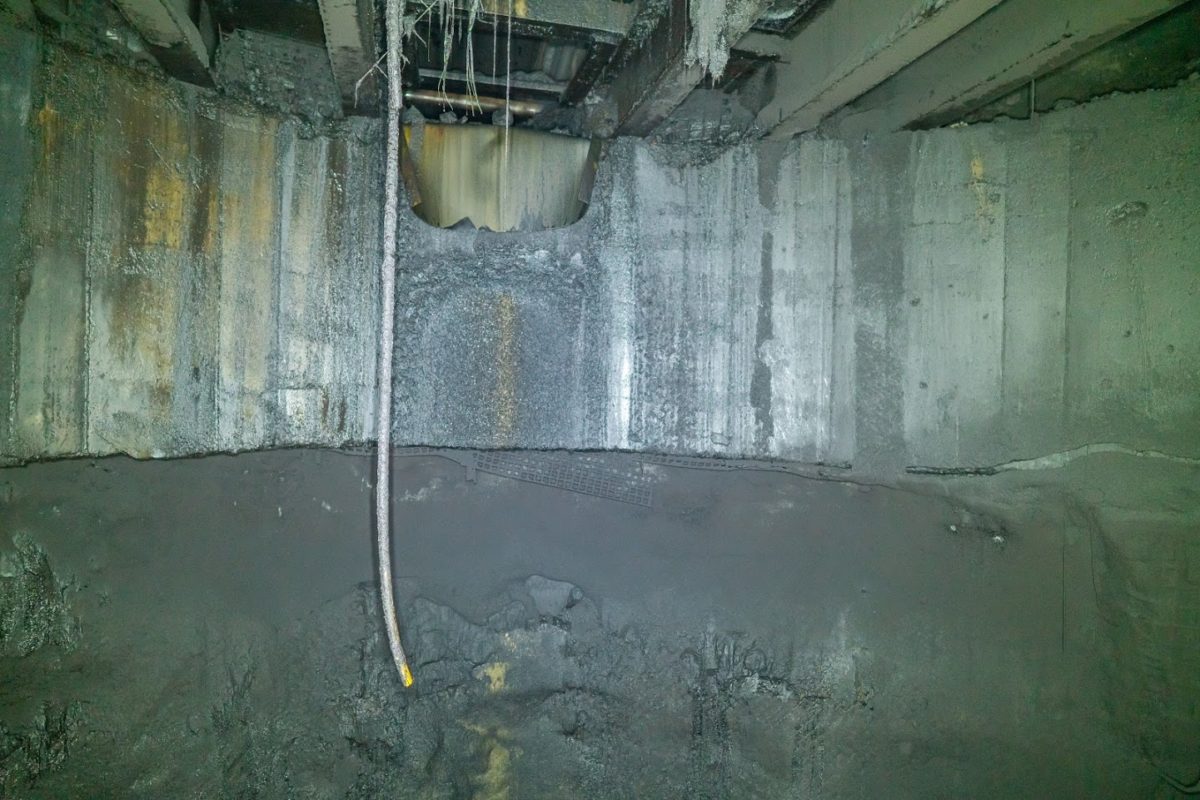 Surge bins installed at the end of colliery conveyer belts are often a critical component of the underground coal transportation process. The word 'component,' however, is a bit too modest to describe them, as surge bins are usually big and cumbersome.
When the time comes to inspect the inside of a surge bin, the task is demanding, onerous, and carries significant risk. This combination of complexity and danger calls for substantial operational planning, requisite safety equipment, and construction of an apparatus to enable a man to be lowered into the bin for a thorough look.
This stock standard method of surge bin inspection is unsatisfactory at best, as it can be hindered by an incompletely emptied bin, which isn't an uncommon occurrence. The person doing the inspection has to contend with additional limitations: he is normally suspended in a basket on the centreline of the bin, and relying on light from a cap-lamp to illuminate the interior. Understandably, the obvious restrictions on mobility and vision can make it a less-than-optimal inspection. Aspects that can fail to be critically assessed and recorded include the condition of the bin walls or bin wear-liners, and the extent of wear or damage to the walls.
SOTO Consulting Engineers recently transformed the surge bin inspection process at an Illawarra colliery by deploying special equipment that eliminates the need for a man to be lowered underground.
Highly-trained SOTO operators located safely outside the surge bin lowered a unique super high-resolution camera rigged with high-capacity lighting into the bin. This enabled the well-lit interior of the bin to be viewed and recorded at incredible levels of detail and sharpness, using the camera's advanced zoom in-and-out capabilities. From the operator's perspective, the camera can be precisely oriented for close-ups of areas of interest, which are assessed by mine engineers working alongside the operator. The images are also recorded for subsequent viewing and discussion as part of the complete inspection process.
For the colliery, the new SOTO technology and expertise brought significant benefits in time and cost, as the surge bin outage time was 80% less than previous inspections using the old method. The fewer steps still needed for the new method included running the bin empty, wetting the interior to settle airborne dust, and preparing safety harnesses for the limited equipment that lowers the camera through the bin-top opening and down to the vibro-feeder on the bin floor, some 32 metres below.
The actual bin inspection took only 90 minutes, allowing the SOTO audit engineer and cameraman to return to the surface within four hours. The colliery has received a comprehensive photographic report of the surge bin inspection.