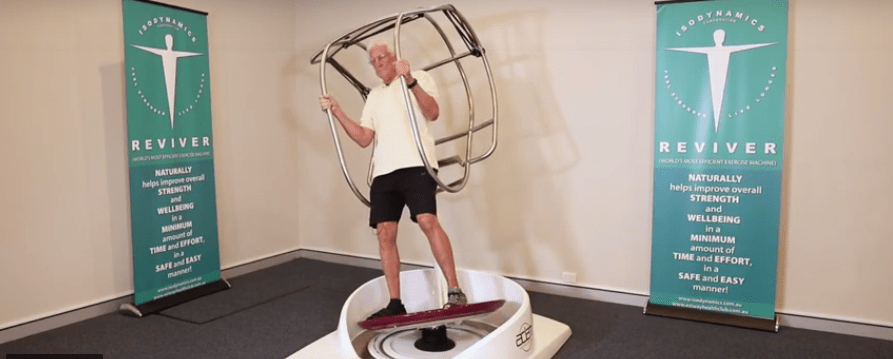 Innovative engineering by a great Australian inventor
Australian inventors have a history of quietly coming up with world-first devices and technologies, including such familiarities as the cochlear implant, WiFi, and the aviation 'black box.' The salubrious Sydney suburb of Cronulla is on the verge of being put on the innovation map by another outstanding inventor.
The origins of Geoff Redmond's potentially revolutionary Isodynamics Reviver lie in filial love: he is the son who could not bear to see his elderly mother struggle in the frailty of old age. After spending long hours in creative binge thinking and eclectic research, and longer hours on the hard slog of designing and prototyping a new device, Geoff's Isodynamics Reviver – already something of a legend in sections of the Australian community – could well be described as his offspring.
The Isodynamics Reviver is an ambitious machine that deploys a humble, everyday force – gravity – to gently bring energy and vitality back to muscles and related brain connections weakened by chronic illness or advancing age. To anyone visiting the Isodynamics Reviver facility at Caringbah, NSW for the first time (recent visitors include Prime Minister Scott Morrison), the machine's sinuous, elliptical lines soften what could otherwise have been an intimidatingly large piece of biomedical engineering. Patients making regular visits to use the facility (for now, the only one in the nation) include those battling conditions as diverse as rheumatoid arthritis, multiple sclerosis, Alzheimer's, and Parkinson's Disease.
For Parkinson's Disease, a clinical trial involving dozens of patients has recently commenced, aiming to rigorously measure specific benefits. While the findings of the clinical trial will take some time to be reviewed and analysed statistically, the patients who have been using the Isodynamics Reviver already have many positive stories to tell of lives transformed and strength, balance, and hope returning to stricken bodies.
A key player and proud partner in the design and manufacturing stages of the Isodynamics Reviver is SOTO Consulting Engineers. SOTO's team was initially brought in by machine inventor Geoff Redmond to assist with enhancing the engineering design and to provide detailed drawings for quality manufacture.
As the design development progressed, SOTO collaborated with Geoff to ensure the robustness and stability of the unit through the engineering design of machine componentry, enabling the high quality and endurance required by an appliance that can operate safely in a clinic or hospital environment. A crucial activity where SOTO deployed its expertise was in engineering qualification and material selection, weld details, quality inspection, and test plans.
SOTO Consulting Engineers are proud to be associated with the Isodynamics Reviver and appreciate being a part of the development of an innovative machine that can improve the wellbeing and lives of numerous people.